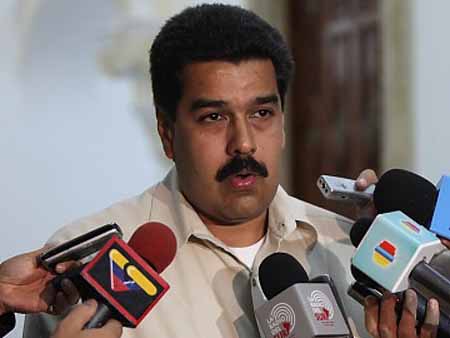 Venezuela ratifies its support for Syrian govt and urges international community to figth against foreign conspiracy targetting that nation http://www.diariolavoz.net/2012/11/13/venezuela-ratifica-apoyo-a-al-asad-y-pide-acompanar-busqueda-de-paz-en-siria/
Vice President and Foreign Minister of Venezuela, Nicolás Maduro, confirmed the Government's support of Hugo Chavez to Syrian President Bashar al-Assad, and called on the international community to accompany the peace initiatives in the country."We recognize the government of President Bashar as the legitimate government of the whole nation and continue denouncing aggressions against Syria that have been developed and are maintained to install a civil war in Syria" to destroy the unity of the people and an end the independence, said Maduro in an interview with state television.
"We believe that the most important duty of the international community is to accompany initiatives seek to restore peace in Syria," the official added.He called on it to condemn terrorism and "prevent terrorist groups wich are funded from outside the nation attacking Syria.He expressed confidence that "sooner rather than later is the way for a peaceful solution with respect for life in Syria", expressing support Venezuelan "all United Nations mechanisms that have enabled the achievement of that goal "
.He charged that Syria has faced a very complex fight against terrorism and "armed groups are brought in from outside."He said there is "sufficient evidence graphical, physical, visual evidnece of how these mercenary groups have been trained abroad" and have come to possess"the most modern weapons," equipment and explosives "to destroy Syria".
[ed notes:also read..
(UNDER THE RADAR)
European Committee for Human Rights Faisal Sergio Tapia complaint more of 600 children Killed by mercenaries in Syria since March 2011
european affairs - THENAKEDFACTS