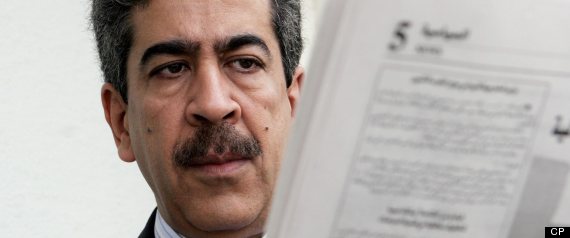 CANADIAN DIPLOMAT,SOROS PUPPET TO HEAD UN ENVOYS OFFICE IN SYRIA
http://www.namnewsnetwork.org/v3/read.php?id=MjA1NjQz
A senior Canadian diplomat has been appointed to head the Damascus office for the joint special representative of the United Nations and Arab League for Syria.
"Mokhtar Lamani has been appointed as head of the office for Lakhdar Brahimi, the Joint Special Representative for Syria in its capital Damascus, Brahimi's spokesman said in a statement Friday. Lamani's most noteworthy experiences were as the Organisation of the Islamic Conference (OIC)'s representative to the UN in New York from 1998 to 2002, and as representative and special envoy of the League of Arab States (LAS) to Iraq from 2006 to 2007,
Xinhua news agency reported. Lamani, a Canadian national of Moroccan origin, has also held a wide range of diplomatic and
academic positions with several Canadian Think Tanks
.
[ED NOTES:HE IS A SOROS PUPPET..SOME BACKROUND...
Lamani has worked as a Distinguished Fellow in Canada, at the Center for International Governance Innovation (CIGI)
(CIGI) is an "think tank on international governance.
CIGI was founded in 2001 by
Jim Balsillie
, co-CEO of RIM (Research In Motion), and collaborates with and gratefully acknowledges support from a number of strategic partners, in particular the Government of Canada and the Government of Ontario."
[ED NOTES:JIM BALSILLIE WHO FOUNDED CIGI WAS ALSO A CO-FOUNDER OF
The Institute for New Economic Thinking (INET) was created to broaden and accelerate the development of new economic thinking that can lead to solutions for the great challenges of the 21st century."
[1]
Founded by George Soros and Jim Balsillie.
MORE ON (INET)
Eric Walberg, "Ivory Coast and Bretton Woods: Soros's Spectre", Dissident Voice, April 7, 2011.
HE WAS ALSO A FORMER AMBASSADOR TO ARAB LEAGUE( A COLLECTION OF WESTERN BACKED DICTATORSHIPS AND TORTURE STATES) TO IRAQ.HE WAS ALSO A MORROCAN DIPLOMAT WHO KISSED THE TORTURE KINGS ASS,NEVER CALLING FOR DEMOCRACY THERE,AND HE WAS ALSO A CLOSE FRIEND TO NEOCON ZIONAZI EX PM OF CANADA,STEPHEN HARPER...ANYONE DOUBT THIS FRAUDS BIAS AND CORRUPTABILITY REGARDING SYRIAN CRISIS?