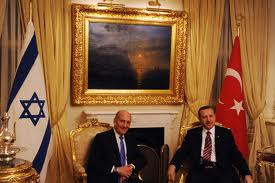 Turkey has direct contact with Israel: Ambassador
Turkey has Direct Contact with Israel: Ambassador
Turkey has direct contact with Israel and its communication channels are open, Turkey's ambassador to Washington said today.Speaking to private broadcaster NTV on the sidelines of the Fifth Conference of Turkish Ambassadors organized by the Foreign Ministry, Namık Tan said: "Our demands are clear; Israelis know these 'legal' demands as well. We have direct contact with them and our communication channels are open." The ambassador, also former envoy to Israel, reiterated Turkey's stance on normalization of ties between two countries, saying it can only be realized if Israel would meet Turkey's demands.Ambassador Tan also praised U.S. President Barack Obama's choice of Zionist John Kerry to the top diplomat post. "John Kerry is a man who has close and warm relations with Turkish leaders and it is a positive step for Turkey," Tan said.
Against this backdrop, Erdoğan's willingness to allow his head of intelligence to meet the head of Mossad in Cairo, and his foreign ministry's director general to meet with Israeli Senior Envoy Ciechanover in Geneva, may seem surprising, especially considering Erdoğan's own harsh rhetoric against Israel during the initial phases of Operation Pillar of Defense.
Turkish Foreign Minister Ahmet Davutoğlu explained that the meetings were aimed at finding an end to the Gaza crisis and that there would be no discussion of reconciliation so long as Israel did not address Turkey's three previously stated conditions.
Israeli officials confirmed that while the discussion in Cairo focused on Gaza, the meeting in Geneva went beyond the Gaza issue, and Israel's envoy Ciechanover did in fact suggest possible options to address Turkey's three stipulations.
Kemal Kilicdaroglu, Turkey's main opposition party leader, or the CHP, on the other hand, accused the Erdogan government of engaging in secret talks with Israel, and claimed that the newly built NATO radar station in Kurecik, Malatya is there to protect Israel.The meeting between the Israeli prime minister's envoy, Yosef Chiechanover, and the Turkish prime minister's envoy, Feridun Sinirlioglu, in Geneva sometime before the operation "Pillar of Defense" encouraged this speculation, and the criticism of Turkish Prime Minister Recep Tayyip Erdogan."If [Erdogan] is sincere in his stand against Israel, he should stop [cooperating with NATO] at Kurecik," Kilicdaroglu said on Dec.4. "They built that radar system there for Israel's security."
IRAQ WAR CRMINAL STRAW AWARDED BY
TURKEYS PRESIDENT GUL
[ED NOTES:ZIONIST TURKISH GOVT GIVES AWARD TO WAR CRIMINAL AND ZIONIST BRIT JACK STRAW!!!
TURKEYS PRESIDENT ''QUEEN ELIZABETHS PUPPET'' GUL AND GOVT PRESENTS U.K.'s WAR CRIMINAL JACK STRAW WITH AWARD, CLAIMS HE'S FRIEND TO MUSLIMS!!!
http://thenakedfacts.blogspot.com/2012/10/turkeys-president-queen-elizabeths.html