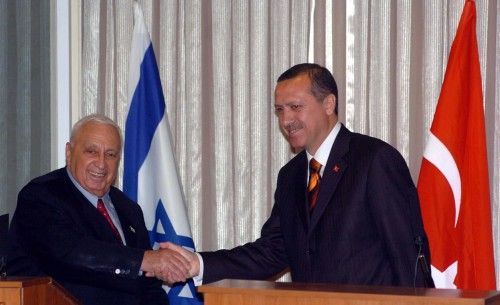 Erdogan, a friend or a foe in the Mideast?Erdogan is the Middle East proxy for the US, misusing the position of Turkey in the region to push American plans forward http://www.abna.ir/data.asp?lang=3&Id=273991
8 - In this situation the behavior of Turkey, as a Euro center country and a member of NATO, is brought into focus. Turkey under Erdogan, like that of the US under Obama (and not a republican America), does not oppose Israeli government but it is in opposition with Israeli Prime Minister Netanyahu, and Zionist regime President Shimon Perez. On the one hand it opposes Netanyahu and on the other hand it boosts its ties with Tel Aviv. 9 - Erdogan takes benefit from the situation of Turkey in the region to trace the American projects. Under the mask of NATO, Turkey during the time of Bulent Ecevit , country's communist prime minister raided Afghanistan and during the time of Muslim Erdogan it attacked Libya. The pressure over Syria remains to be told.
10 - Under no excuses can a Muslim country become an ally of NATO in attacking another Muslim country. If Turkey joined NATO six decades ago, NATO used to be a defense shield against the former communist Soviet Union. Birgul Ayman Guler, Deputy People's Republic Party:

The system is aimed at protecting Israel against missile threats of the Islamic Republic of Iran and the permission for that is issued by the Justice and Development Party and not the Turkish nation

.
Mr Kurtu Lemoch , leader of the Voice of people voiced his opposition with the lunching a NATO base within Turkish borders and said;"

On the one hand Turkish government rejects Israeli policies and on the other hand it cooperates with the missile shield plan which is a plan to protect Israel

. This is an prominent contradiction and Turkey is obliged to announce its evasion for more cooperation with the plan./Mustafa Kamlak Leader of the Muslim Saadat party in Turkey said:

The so called plan is a plan to scapegoat Muslims and should Turkey take part in the plan, it will lead to widening gap between Turkey and its neighbors

.