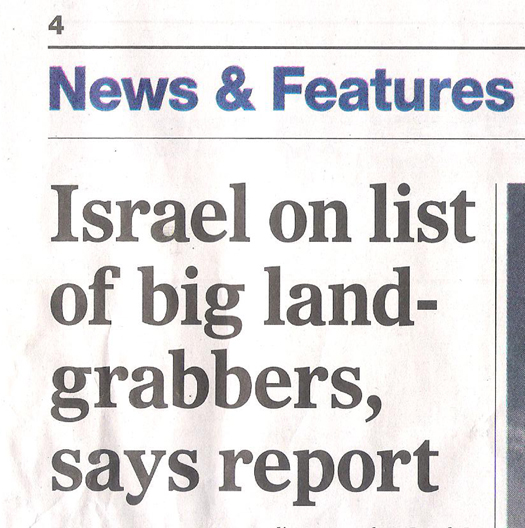 Israel's One of the World's Biggest Land-Grabbers
by Stephan Lendman
It shouldn't surprise. Israel stole Palestinian land for decades. In 1948, it stole 78% of historic Palestine. In 1967 it took the rest.It denies Palestinians the right to their own land. It declares it state land. A new study explained more.
On January 29,
Haaretz
headlined "Israel ranks among the world's most harmful land-grabbers."
It's a new form of colonialism. Israel prioritizes it. Palestinian land worth tens of billions of dollars has been stolen. Israel plans taking all parts of historic Palestine it wants.US and Italian researchers discussed global land-grabbing. The US National Academy published their findings. It warned about environmental and economic damage in poorer countries.Accessed land is usually used "to grow crops for either food or biofuel." Local populations have no say. Israel uses stolen Palestinian land for multiple purposes.
They include resource theft, settlements, commercial development, closed military zones, tourist areas, and other locations off limits to Palestinians.Globally, hundreds of millions of dunams of land-grabbing amounts to ten times the size of Israel.
Much was gotten in recent years. Sixty-two countries are affected. Twenty-four matter most. They're largely in Asia and Africa.Leading land-grabbers include America, Britain, China and Israel.
The Jewish state made the list by exploiting Palestine and other countries. They include Colombia and Democratic Republic of Congo.Land usage "come(s) at the expense of forests or other ecologically important zones."
Host countries are robbed of their own resources. Their ability to grow food and provide for their people are compromised.Study findings showed 60% of water used served America, Britain, China, India, Israel, and several other countries.
[ed notes:click link for whole article,meanwhile ,not surprisingly a zionist funded and pro israhell group ''CAMERA'' went immediatly into damage control and published a supposed retraction of story on study to their liking of course..see.. http://blog.camera.org/archives/2013/02/haaretz_revisits_land_grab_sto.html the haaretz then under pressure says the studies ranking of israhell within it was based on a ''questionable'' allegation of israel and congo dealings... the reality is those unfounded dealings are actually well founded and substanciated see.. filthy zionist israhelli billionaire looting congo... - THENAKEDFACTS
Backround on this group ''CAMERA''
CAMERA is widely regarded as a pro-Israeli lobby group that as put by Journalist and author Robert I. Friedman - "CAMERA, the A.D.L., AIPAC and the rest of the lobby don't want fairness, but bias in their favor. And they are prepared to use McCarthyite tactics, as well as the power and money of pro-Israel PACs, to get whatever Israel wants."
EI exclusive: a pro-Israel group's plan to rewrite history on Wikipedia