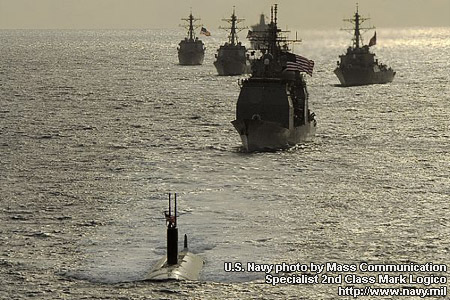 US Nuclear-Powered Submarines Near Venezuela and the "Benghazi Formula" http://www.tiwy.com/news.phtml?id=211

As a matter of fact, this was not the first US submarine invasion of Venezuela's territorial waters on record. In April 2002, on the eve of an attempted anti-Chavez coup, US Defense Intelligence Agency operatives were supposed to hold a coordination meeting with the perpetrators aboard a US submarine. In September 2005, the USS Virginia, a US attack submarine, left the Naval Submarine Base in Groton, CT, for a 70—day reconnaissance raid in the Caribbean Sea. The Virginia and other US submarines are known to have paid a number of uninvited visits to Venezuela's territorial waters since the time.

The world's tolerance to the US aggression against Libya created a situation whereby any country sitting on considerable energy resources – Syria, Iran, or Venezuela - became a potential target.

Indications of US preparations for an aggression against Venezuela are multiplying. US SouthCom is massively enrolling students in Spanish-language programs emphasizing specifically Venezuelan aspects of the Spanish spoken in Venezuela. Graduates of the programs dressed in Venezuelan army uniforms would possibly be pulling off provocations when Chavez's regime comes under fire.

Incidents of this type have been reported previously – in 2004 a Columbian group of some 100 people moved into the Daktari estate near Caracas, the plan being to attack Palacio de Miraflores, the official presidential residence, in the guise of rebel Venezuelan army servicemen.
[CLICK LINK FOR REST OF ARTICLE...