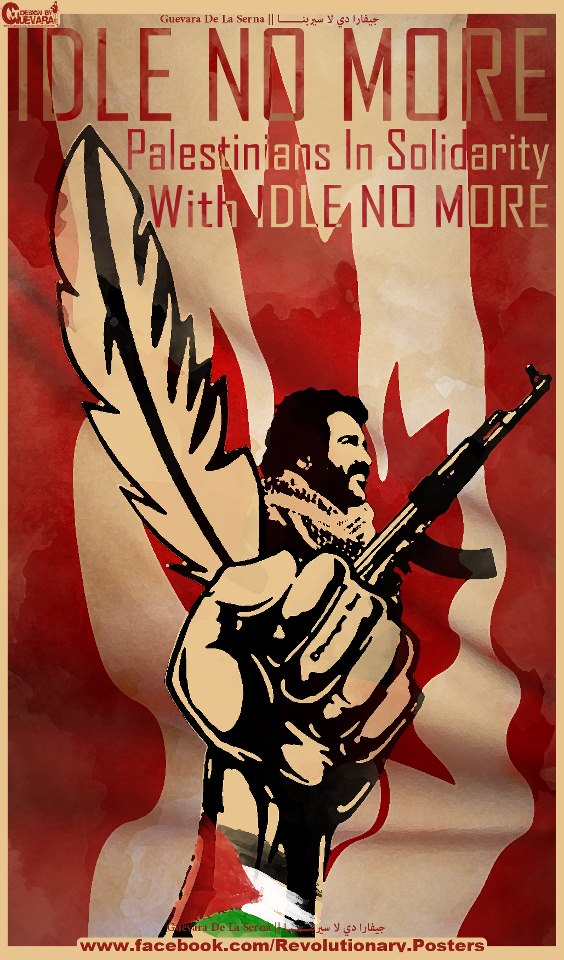 Palestinians in Solidarity with Idle No More and Indigenous Rights
Palestinians in Solidarity with Idle No More
SIGN ON: Email
PalestiniansIdleNoMore@gmail.com
or USE THE FORM:
http://bit.ly/PalIdleNoMore
"You who come from beyond the sea, bent on war,don't cut down the tree of our names,don't gallop your flaming horses across
the open plains….Don't bury your Godin books that back up your claim of
your land over our land,don't appoint your God to be a mere
courtier in the palace of the King"– Mahmoud Darwish, The Penultimate Speech of the "Red Indian"
Indigenous people have risen up across Canada in the Idle No More movement, a mass call for Indigenous sovereignty, self-determination and rights, against colonization, racism, injustice, and oppression. As Palestinians, who struggle against settler colonialism, occupation and apartheid in our homeland and for the right of Palestinian refugees – the majority of our people – to return to our homeland, we stand in solidarity with the Idle No More movement of Indigenous peoples and its call for justice, dignity, decolonization and protection of the land, waters and resources.
We recognize the deep connections and similarities between the experiences of our peoples – settler colonialism, destruction and exploitation of our land and resources, denial of our identity and rights, genocide and attempted genocide. As Palestinians, we stood with the national liberation movement against settler colonialism in South Africa, as we stand with all liberation movements challenging colonialism and imperialism around the world. The struggle of Indigenous and Native peoples in Canada, the United States, have long been known to the Palestinian people, reflecting our common history as peoples and nations subject to ethnic cleansing at the hands of the very same forces of European colonization.
The Indigenous resistance across Canada includes struggles against the ongoing theft of indigenous lands, massive resource extraction and environmental devastation (including tar sands and pipelines), the continuing movement of survivors of the genocidal residential school system, and movements to demand an end to the colonial and gendered violence against Indigenous women.The Canadian government, reflecting its own settler colonial nature, was one of the earliest and strongest supporters of the establishment of Israel as a settler colony on Palestinian land and has since that time been a steadfast backer of Israeli wars, occupation, colonization, and oppression against our people. Canada has done so alongside the United States, which shares the same settler colonial nature, legacy of genocide, and massive support for Israeli occupation, colonization and apartheid.
Canadian Prime Minister Stephen Harper's government has pronounced itself "Israel's best friend," supporting its assaults on Lebanon and Gaza and consistently attacking Palestinian rights both on the international stage and within Canadian borders. At the same time, it has embarked on a program of refugee and migrant exclusion, cuts to refugee health care, attacks on workers' rights, support for massive resource extraction and environmental devastation – and attacks on Indigenous rights and sovereignty on treaty and unceded land. Harper and his government's expansive praise for Israeli settler colonialism and apartheid is simply the other side of the same coin that attacks Indigenous self determination and plans massive resource extraction on Indigenous land.We salute the Idle No More movement and the unity of indigenous people around its calls for justice, as well as the courageous hunger strike of Chief Theresa Spence.
We note that this movement belongs to all Indigenous people and was launched by youth and women. Our struggle as Palestinians is the same – rooted in all of our people and finding its greatest strength in youth and women's leadership.Now is the time – from Canada/Turtle Island to Palestine, we must all be "Idle No More" , and take a stand: against colonialism, against occupation, and for self-determination, sovereignty, rights and justice for Indigenous peoples.