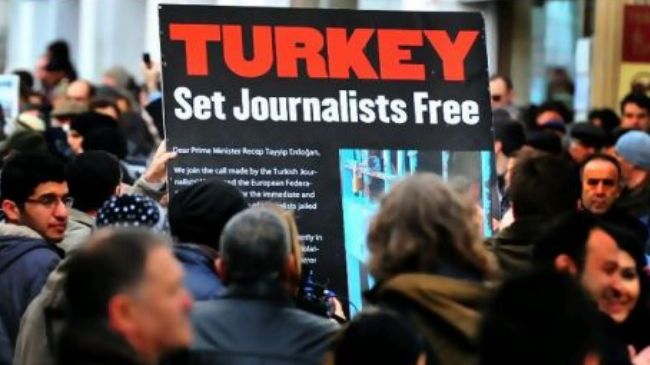 Over 70 journalists remain imprisoned in Turkey: Report
The International Press Institute (IPI) and the Turkish Journalists Association (TGC) have expressed concern over the current situation of press freedom in Turkey, saying that 71 journalists are still imprisoned in the country.According to a Friday report published by the Turkish newspaper Hurriyet, journalists from both organizations attended a meeting held by the TGC on December 5.
Peter Preston, spokesman of the Freedom for Journalists Platform (GOP) who attended the meeting, said he had been closely monitoring Turkey's steps in the democratization process of press over the past 25 years."I think the speed of democratization process has slowed down. The things I heard worry me."Preston added that the GOP had held talks with Turkish officials and the opposition in the capital Ankara, demanding the release of the detained journalists
.[

ED NOTE;gop troll tries to offer some political cover for the repression of course..downplaying the real gravity of situation..
Meanwhile, TGC deputy chairman Turgay Olcayto commented on Turkey's fourth judicial package, which mainly focuses on eliminating rulings of the European Court of Human Rights (ECHR) that concern the violation of human rights in Turkey and is expected to be passed."Unfortunately, I am not very hopeful about this package," he said, adding that the Turkish Penal Code and the Anti-Terror Law must be immediately reformed. "Those incidents are a shame for Turkey."Journalists in Turkish prisons, together with thousands of activists, military officers, politicians, and lawyers, are accused of supporting Kurdish militants and plotting against the government.On November 1, the United Nations censured Turkey for its vague anti-terrorism Law, which allows the authorities to prosecute activists, lawyers and journalists, and even detain them for a long time before their trials with no access to a lawyer.In another report released on October 22, the New York-based Committee to Protect Journalists (CPJ) accused the government of Turkish Prime Minister Recep Tayyip Erdogan of using pressure tactics to encourage self-censorship among journalists.