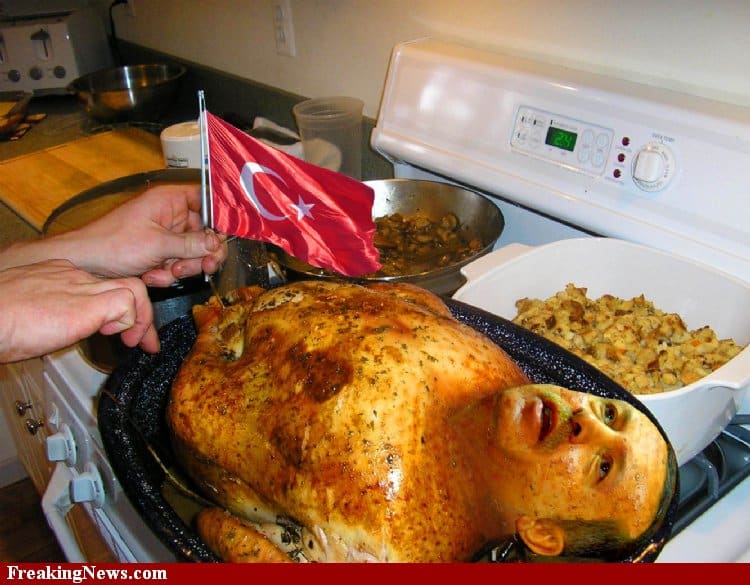 Turkey's Opposition Parties Reject Military Strike in Syria
http://www.al-monitor.com/pulse/originals/2013/08/turkey-syria-oppose-strike.html#ixzz2dRjvcrKq
there is a growing distrust among the Turkish opposition parties of the evidence provided for holding the Assad regime responsible for the chemical weapons attack
. [[["Turkey should not be pulled into a war in Syria based on fabricated and one-sided intelligence reports," Haluk Koc, deputy chairman of the main opposition Republican People's Party (CHP), said today, Aug. 29. "Before all the facts become clear about the Syrian [chemical weapons attack] issue, we need to be very careful about making warmongering speeches and its potential costs to us. At the end of this process, Syria may become an Afghanistan. All the terror activities around the world could be sparked from there. These [in the Syrian opposition] are the most radical, backward-minded people … And all these problems could be easily sucked into Turkey. We may end up witnessing same problems [related to radical Islamist activity] in Turkey.]]]]"
Devlet Bahceli, leader of the Nationalist Movement Party (MHP) also sent a warning to his constituency in a written statement inviting them all to be more skeptical about the allegation that Assad is responsible for the chemical weapons attack in Ghouta
. "It's only a matter of time for the internal strife in Syria to turn into an all-out regional war. The usage of chemical weapons, which was declared a red line, seems to be the triggering facilitator," he wrote on Aug. 28, emphasizing that it's everyone's duty to objectively assess who actually attacked with chemical weapons in Syria.
"[[[[It's not only immoral, but against international law to engage in a warmongering approach with hollow excuses and fabricated evidence. There is no doubt that military deterrence should be pursued as a last resort. Moreover, the unbearable scenes coming out of Syria need to be brought to the attention of the UN Security Council as well as its General Assembly to make sure that whatever action is decided, it is agreed upon as a legitimate operation." Bahceli added. "It's sad and mind-boggling to observe the ruling [Justice and Development Party] AKP being so willing to see the international community carry out a military strike against Syria."]]]]
Haldun Solmazturk, a retired brigadier general, also draws attention to the credibility of US intelligence.
"[[[If they are determined, and see it as in their interest, they find the right people to say it to the international community. Remember what happened before the Iraq war," he said on Aug. 28 at a conference in Ankara. "They put Colin Powell, a highly respected former general, before the UN and it was proven later on that all he said was a lie. This should not repeat.]]]]"
Adnan Sefik Cirkin, Hatay deputy of the MHP, also draws attention to the upper hand of radical Islamists in the Syrian opposition and sends his own warning about the impact of any military strike against the Syrian regime on regional countries.
[[[["Up until now, the Syrians considered the state to mean the Assad family. Now, they see that it's providing them shelter from these radicals, and still continues to pay their salaries despite all that is going on. It may be the first time that Syria, since its establishment, is really growing to become a nation, a state," he said. "If the Assad regime collapses now, it becomes a disaster for us."]]]]
[[[Atilla Kart, Konya deputy of the CHP, also sent in a mass email today that his inquiry regarding the landing of three Saudi Arabian military transportation C-130 flights to Ankara's Esenboga Airport on Feb. 24 and 25 have finally been answered]]]].
"[[[[[These flights were intended to provide humanitarian aid to Syrian refugees [which is not only limited to] Saudi Arabia," the Turkish Foreign Ministry wrote to Kart on July 15. "Turkey aims to help the Syrian people and its opposition in building a new Syria that is democratic, peaceful and comforting." Drawing attention to the fact that such flights also landed on Aug. 15 to 17, Kart added: "Since when is it Turkey's business to nation-build?"]]]]
To sum up, Turkey's political opposition is
deeply concerned
that this chemical weapons attack could be a setup to invite outside military intervention, which may unfortunately help to further strengthen the radical Islamist elements at Turkey's doorstep, and that Turkey's ruling party actually helped to strengthen these radical elements in Syria. Many worry that Turkey will end up paying a serious price for this reckless policy
. [[[["Al-Qaeda was once in Afghanistan. Now they gathered all the world's jihadists in Syria," one prominent official told Al-Monitor, harshly criticizing the US policies on Syria and the broader Middle East. "Where will they be next if [the United States] continues pursuing such wrong policies? Turkey? Why not?"]]]]]