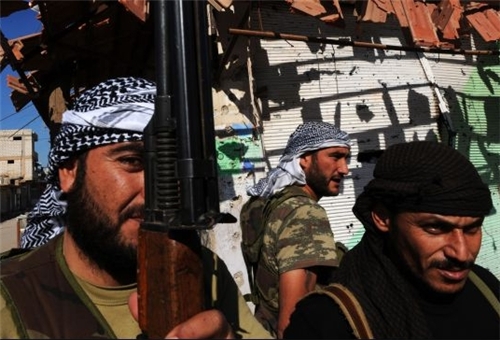 Al-Nusra Militants Retreat from Yarmouk http://www.islamicinvitationturkey.com/2013/08/07/al-nusra-militants-retreat-from-yarmouk/
Palestinian fighters recaptured some occupied parts of the Yarmouk refugee camp near the Syrian capital.Al-Alam reporter Darin Fadhl said on Tuesday that heavy clashes erupted in the camp between Palestinians and foreign-backed militants in which tens of insurgents affiliated to al-Nusra Front were killed and the remaining retreated and ran to other areas. Palestinian groups started to gather fighters in July to stand against militants who entered the camp a few months ago. Many of the Palestinian refugees have been forced to leave the camp by militants who seek to use it as a base to step up their attacks on Damascus. Fadhl said belongings left by the militants in the buildings show they were from al-Nusra terrorists.
There are still parts of the camp which are occupied by al-Nusra terrorists, she added. In the few months of their presence in the camp, militants had dug several tunnels to transfer arms and equipment.