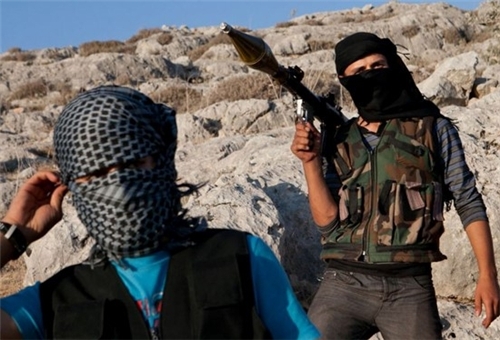 E.U. TO SALAFI FOOTSOLDIERS SENT TO SYRIA
....YOU ARE NOT ALLOWED TO COME BACK
(ACOMPLISH OUR MISSION OR DIE THERE?)
http://www.islamicinvitationturkey.com/2013/08/07/eu-salafi-fighters-in-syria-not-allowed-to-return-to-homelands-in-europe/
The European Intelligence Service (EIS) decided in a recent meeting not to allow the Salafi fighters who have flown to Syria to join the terrorist groups to return to Europe again."The EIS studied the issue of Salafi fighters who enjoy European nationalities in its recent meeting on July 24 and decided that it should prevent the return of thousands of Salafi fighters to their countries in Europe," an informed source told FNA on Wednesday on the condition of anonymity due to the secrecy of the issue.
According to the source, the European security officers have welcomed
(ed note: or paid them and sent them there?)
the exit of Salafi fighters from Europe, underlining that their stay in Syria will increase security in European territories.
"They have also decided to identify the origins of these fighters and the roots of their beliefs in Europe in a bid to prevent the training of a new generation of Salafi fighters on the continent," the source added.
(ed note: bs ,more like they already had their identities,had already questioned them,and possibly directed them towards Syria,for monetary rewards,or maybe even reduced penal sentences)
Earlier this year, the EU's anti-terror chief said that hundreds of Europeans are now fighting with rebel forces in Syria against Bashar al-Assad's government.
Gilles de Kerchove estimated the number in Syria at about 500.
Intelligence agencies are concerned some could join groups linked to al-Qaeda and later return to Europe to launch terrorist attacks.
The UK, Ireland and France are among the EU countries estimated to have the highest numbers of fighters in Syria.
"Not all of them are radical when they leave, but most likely many of them will be radicalized there, will be trained," Mr. de Kerchove said.
(ed note:they know they promised them victory against Assad,and when many realize they cant win,wil come back and attack the european zio imperial nations who directed them,i believe!its a fact these main eu nations mentioned above,working with sahel region nations directed al qaeda,wahhabists,and other jihadists ,and today claim they are fighting against them!see http://thenakedfacts.blogspot.com/2013/08/zionist-henry-jackoff-society-and.html
same methods apply in Syria
,
im sure
...
can i definatly prove this to be case in Syria theater you ask?are these figthers when reaching syria not funded by these eu nations closest allies???
"And as we've seen this might lead to a serious threat when they get back. "